Club History
Our logo was developed by Charles Taylor, Steve Smith and Larry Johnson to show a flower growing out of the Fresno Area of California.
Past / Present Club President(s):
2002  – 2003     Ronnie McNair
2003 – 2004     Bill Riddlesprigger
2005 – 2007      Rev. Floyd D. Harris, Jr.
2008 – 2009     Charles Taylor
2010  – 2017      Mikki Addison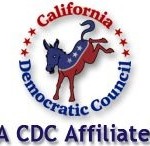 Our club has been continuously active since 2002 in the West Fresno community by registering voters, GOTV actions, fundraising events and community education regarding important issues. We maintain numerous contacts throughout this community and are committed to having a positive impact on local politics.
We are an Affiliated Club Member of the California Democratic Council and we maintain close cooperation with the Fresno County Democratic Party and it's projects